Important Ethnic Publications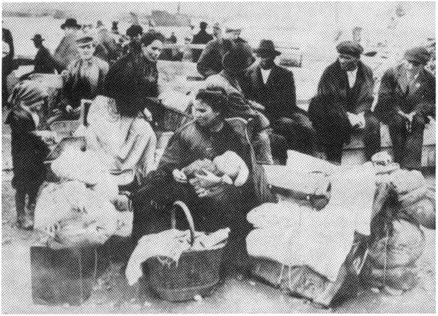 ---
The Italian Emigration to the United States, 1880-1930
A Bibliographical Register of Italian Views
---
Including
Selected Numbers From the Italian Commissariat
of Emigration, Bollettino dell'Emigrazione
---
The swelling tide of Italian emigration to the United States began in the last quarter of the 19th century and continued unabated until the American restrictive immigration quotas of the 1920's. In these years Italian emigration ranges from 5711 emigrants recorded in 1880 to 358,569 in 1906; 376,776 in 1913; 349,042 in 1920; to the ebbing tide of 35,785 in 1930. It is across this time-frame (1880-1930) which chronicles the cast Italian out-migration that a kaleidoscope of Italian opinion forms and mirrors the multifaceted reactions to what Anna Maria Martellone calls "perhaps, the most significant social phenomenon in Italian post-unification history."
The authors have compiled a bibliographical register of Italian opinion from 1880 through 1930 on the mass emigration of their countrymen, women and children; The Register includes over six-hundred entries which cover the protean and varied response to a national phenomenon which the American economist Robert F. Foerster observed "belongs among the extraordinary movements of mankind ... [which] in its chief lineaments has no like."
Beyond an historical commentary within which this Italian volkerwanderung (which Foerster with ironic felicity called an "imperialismo della povera gente") may be better understood, the volume includes, also, a selection of materials drawn from the Italian Commissariat of Emigration's Bollettino dell'Emigrazione (1902-1927) whose issues constitute a wide ranging vast reservoir of contemporary accounts by Italian officials and independent observers. Among these Bollettino materials are included accounts of Italian immigration in Colorado and Utah; the San Raffaele Association For the Protection of Italian Immigrants; the 1906 San Francisco earthquake; Italian "peonage" in the American South; Advisements to Italian immigrants; Italian societies in the United States; Italian immigration in California; and Italian immigrants in Chicago.
ISBN 0-940198-05-3
Books In Print List: $37.00
Our Price: $26.00 + P&H
---
The Black Hand
A Chapter in Ethnic Crime
The disciplined chronicles of the authors demonstrate that the Black Hand or La Mano Nera must be seen as a phenomenon with a life of its own, unencumbered with the legacies of the Neapolitan Camorra or the Sicillan Mafia; it is limited in both time and place, and is not an antecedent of the Mafia or a proto-form out of which organized crime emerges.
Beginning in 1903, and following a case in Brooklyn in which threatening letters were signed "La Mano Nera", the term Black Hand supplanted all others, and was generally applied to Italian crime, sometimes to the Italian community as a whole, for more than 15 years when it faded out. The basic technique and the label were imitated among other immigrant groups and even among native Americans.
Paperback. ISBN 0-940198-05-3
Books In Print List: $16.50
Our Price: $13.95 + P&H
---
The White Slave Trade & The Immigrants
A Chapter in American Social History
Foreword by David N. Alloway. vi + 114 pages, bibliography, index; CIP. Includes a facsimile reprint of Senate Document 196, 61st Congress, 2d Sesion Washington: G.P.O., 1909, Importing Women for Immoral Purposes.
Beginning their account in 1902, the authors have carried the history of the white slave trade down to the enactment of the Mann Act, and the breaking-up of the vice-ring identified with gangster Lucky Luciano in the 1930's. Invaluable for ethnic studies, criminology courses, courses in immigration and urban sociology.
| | |
| --- | --- |
| Paperback. ISBN 0-87917-076-X | Our Price: $10.00 + P&H |
---
Italians in the United States
An Annotated Bibliography of Doctoral Dissertations
Completed at American Universities
---
With a Handlist of Selected Published
Bibliographies, Related Reference Materials,
And Guide Books For Italian Emigrants
---
A major bibliography of 881 entries (mostly annotated) including doctoral dissertations on all facets of the Italian American experience; although the major attention is to American Dissertations, some Canadian and Italian University dissertations are included along with a representative sample of M.A. theses. All important published bibliographies and reference materials on Italian Americans are listed and described and a handlist of Guide Books for Italian Emigrants (1860-1966) is provided.
Truly, an indispensible reference work on Italian Americans one of the largest ethnic groups in the United States and a significant contribution to American ethnic historiography.
LC 81-81619
ISBN 0-940198-00-2
Books In Print List: $37.00
Our Price: $19.85 + P&H
---
The Italian Community and Its Language
in the United States
The Annual Reports of the Italian Teachers Association

Edited by
Brought together here are the rare Annual Reports (1921/22-1938/39) of the Italian Teachers Association which was organized in 1912 in New York City and was largely directed in its early years by Mario Cosenza and Leonard Covello. Professor Joseph G. Fucilla has characterized the Annual Reports as "invaluable ... the only faithful record we have on the status of the language from 1923 to 1939". Also included are Mario Consenza's The Study of Italian in the United States(1924), and the Casa Italiana Educational Bureau pamphlets (c. 1933/34) by Peter M. Riccio and Henry G. Doyle on the study of the Italian language. In his introduction Dr. Cordasco writes "What Covello and Cosenza recognized was that the student constituences of Italian language classes, ideally, were the children of Italian immigrants (in Fishman's designation, 'appropriate ethnics'), and that the social history of Italians in America should form part of the instructional syllabus of Italian language classes."
ISBN 0-87471-585-7
Books In Print List: $32.00
Our Price: $17.75 + P&H
---
Italian Mass Emigration
The Exodus of a Latin People
---
A Bibliographical Guide to The Bollettino dell'Emigrazione, 1902-1927
---
The Bollettino dell'Emigrazione (1902-1927) is a major archive chronicling not only the emigration of Italians to all parts of the world, but equally delineating Italian experience in the many nations to which Italians emigrated. In the thousands of notes, articles, reviews, legislative debates, regulatory codifications, and miscellanea which the Bollettino incorporates, there lies an evolving chronicle of human migration which touches the sovereignties of four continents. Professor Cordasco has designed this bibliographical guide to the Bollettino dell'Emigrazione for a maximum utility. He has listed in chronological continuum the contents of each of the fascicles (i.e., numbers) as they appeared in each annual volume in Italian. Each of the articles, notes, reviews, and mountains of miscellanea has been assigned an entry number (in all, a total of 4711 entries); and a thematic index (keyed to the entry numbers) provides a guide to the thousands of subjects (and hundreds of authors) which constitute the substantive body of the Bollettino.
ISBN 0-8476-6283-7
Books In Print List: $37.00
Our Price: $19.85 + P&H
---
The Puerto Rican Study
With an Introductory Essay by
This report was released by the Board of Education of the City of New York in 1959. It was the result of a heavily funded four year study of the problems of the education and adjustment of Puerto Rican children, and by inference, all Spanish-speaking groups in the public schools of the Unites States.
The findings of this survey as well as its recommendations are crucial and far-reaching. However, the original edition seems to have been severely limited, both in quantity and distribution.
As a result, this significant report is almost unkown in an area in which teachers and social workers are in great need of such basic materials as this volume contains.
The INTRODUCTORY ESSAY, written especially for this edition by Dr. Francesco Cordasco of Montclair State College, provides a full analysis of the Study, its findings and recommendations which have not yet been seriously and properly implemented.
ISBN 0-88211-024-1
Books In Print List: $37.00
Our Price: $18.25 + P&H
---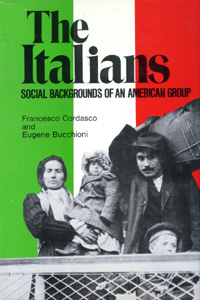 ---
The Italians
Social Backgrounds of an American Group
"A singular contribution to the growing literature on the peoples of the United States ... a treasure of information ... important background information, demographic data, descriptive materials about Italian family life in all its varied aspects, materials for a comparative sociology of prejudice and intergroup conflict and cogent analyses of such phenomena as 'the black hand,' 'the mafia,' 'the padrone system,' and 'the impact of the American school on the Italian immigrant,'"
-Sociology
"A valuable sourcebook ... The best writing on the subject is represented ... Of importance to many scholars in sociology, history, anthropology and other social sciences, and is of equal value to students who require the differenct perspectives this book offers. Recommended for all libraries."
-Choice
"'The Italians' succeeds very well ... It provides ... most of all, an especially provocative challenge to investigate further behind the many doors for research opened ever so slyly by Cordasco and Bucchioni ... Sourcebooks that recreate periods in American life are common ... But, an anthology of sources that offers a wealth of hypotheses to be investigated by scholars from many different disciplines is not common. On the contrary, it is quite rare."
-Italian Americana
L.C. 74-3151
ISBN 0-678-01366-7
Books In Print List: $29.50
Our Price: $12.00 + P&H
---
Minorities & the American City
A Sociological Primer
A trenchant examination of the causes of urban problems in American cities; different aspects of the urban crisis; and proposed remedies, of which reformed education is seen as a key area.
Paperback.
Books In Print List: $13.50
Our Price: $3.00 + P&H
---
Italians in the United States
A Bibliography of Reports, Texts, Critical Studies and Related Materials
This is a classified bibliography of over 1462 items (many annotated) on all aspects of the Italian experience in America - Immigration; History and Regional Studies; Sociology of Italian American life; the Politico-Economic context; Belles-lettres and the Arts. The volume includes a long Foreword, introductions to each of the classified divisions and a name/author index.
"This substantial bibliography is long overdue."
ITALICA (Summer 1974)

"This bibliography is the most extensive to date and should be a prime reference work in the field for some time to come."
FORUM ITALICUM (1975)
- Limited Quantity Available -
ISBN 0-0000-00-0
Books In Print List: $25.00
Our Price: $5.50 + P&H
---
Studies in Italian American Social History
Essays in Honor of Leonard Covello
Edited by
Intended as a collection of original essays on diverse facets of the Italian experience in the United States, this volume honors Leonard Covello (1887- ) whose Social Background of the Italo-American School Child is a classic study in ethnocultural history, and who spent a lifetime advocating Italian-American studies (and who is presently working with the Sicilian reformer, Danilo Dolci). Each of the essays has been commissioned for this volume and is an original significant contribution to ethnic socio-historiography.
ISBN 0-87471-705-1
Books In Print List: $32.50
Our Price: $27.50 + P&H